Directed By: Elizabeth Allen Rosenbaum
Story By: Jim Hecht
Produced By : Sofia Carson, Tim Haslam, Hugo Grumbar, Paul O. Davis
Starring: Sofia Carson · Cassie; Nicholas Galitzine · Luke; Anthony Ippolito; Linden Ashby; John Harlan Kim.
Production companies: Alloy Entertainment · Embankment Films · Gidden Media · Netflix.
Distributed By: Netflix
Release Date: July 29, 2022
PURPLE HEART MOVIE PLOT
Take a deep breath before we get started… Sofia Carson plays Cassie Salazar. A bartender and want to be a rock star. Who can't even afford to pay for her insulin. Recovering drug addict Luke Morrow (Nicolas Galitzine) still owes his shady dealer $15,000. But he is a marine and a recovering heroin addict.
When they first meet at Cassie's bar one night, they don't get along. This guy is simply another arrogant military man, and she dismisses him as a wealthy lady who appears to care about problems but doesn't understand how the world works. At first glance, there is a mutual dislike.
Cassie and Luke may not get along, but they each know that the other has their backs when it comes to solving problems. Obtaining a military spouse's health insurance will solve Cassie's financial woes if they wed before Luke's scheduled deployment to Iraq.
As a married pair, they'll be eligible for a variety of perks that might assist him in paying off his debt. In the long run, if they can keep up the deception for the length of Luke's military service, it will benefit them both financially and ethically. This is out of the ordinary, but it's achievable, right?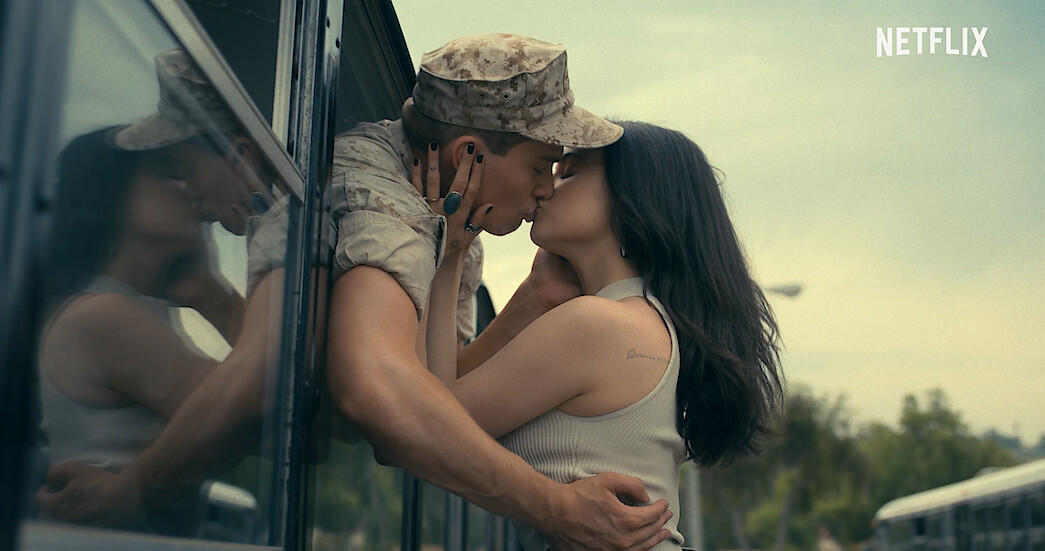 Based on the 2017 book Purple Hearts, you may anticipate the story to play out precisely as you expect it to in Purple Hearts. As a result of Luke's injury in battle, the fictitious couple is forced to return to their birthplace in Southern California earlier than expected, where they must avoid raising the suspicion of his tough dad (Mortal Kombat's Linden Ashby).
Both of these things are happening at the same moment. A few excellent songs later, Carson's band moves from a small dive bar to Whisky a Go Go, a legendary LA club that's been a staple of the city's music scene for decades. For Florence + The Machine's Hollywood Bowl show, they'll open, but there will be no Florence Welch appearance.
Purple Hearts is tediously predictable and never quite hits the mark, but it isn't a hopeless situation either. There are a few well-observed moments in the screenplay when Cassie calls out the casual racism of a pharmacy clerk and one of Luke's annoying marine mates. The writing dives a bit further than necessary.
However, the film's tone and message are both too overt and blatant for it to hold the audience's attention. To prove that Cassie, the protagonist, is liberal and "snowflake," director Elizabeth Allen Rosenbaum hangs Black Lives Matter and gay pride flags from her balcony. Netflix, on the other hand, appears ready to settle for shows that are professional but stilted these days.
PURPLE HEART OFFICIAL TRAILER
MOVIE REVIEW