Based on: Uncharted by naughty dog
Release date: February 7, 2022 (Barcelona), February 18, 2022(United States)
Produced by: Charles Roven, Alex Gartner, Avi Arad.
Directed by: Ruben Fleischer
Story by: Rafe Lee Judkins, Jon Hanley Rosenberg, Mark D. Walker
Starring: Tom Holland as Nathan "Nate" Drake: A young fortune hunter,
Tiernan Jones as young Nate.
Mark Wahlberg as Victor "Sully" Sullivan: A seasoned fortune hunter who previously worked with Nathan's brother,
Antonio Banderas as Santiago Moncada: A ruthless treasure hunter and the descendant of the Moncada family.
Sophia Ali as Chloe Frazer: A fellow fortune hunter, Sully's associate and Nate's former frenemy turned romantic interest.
Tati Gabrielle as Jo Braddock: A mercenary working with Moncada against Nathan and Sully.
Rudy Pankow as Samuel "Sam" Drake: Nathan's long-lost brother.
Cinematography: Chung-Hoon Chung
Edited by: Chris Libenson, Richard Pearson
Music by: Ramin Djawadi
Distributed by: Sony pictures releasing
Running time: 116 minutes
Country: United States
Language: English
Movie Plot:
The 2022 American action-adventure movie Uncharted is based on the Naughty Dog and Sony Interactive Entertainment video game series. It is directed by Ruben Fleischer and written by Rafe Lee Judkins, Art Marcum, and Matt Holloway.
In addition to Sophia Ali, Tati Gabrielle, and Antonio Banderas playing supporting parts, it stars Tom Holland as Nathan Drake and Mark Wahlberg as Victor Sullivan. In the movie, Sullivan enlists Drake in a race to find the rumored treasure of the Magellan voyage against dishonest tycoon Santiago Moncada (Banderas) and mercenary leader Jo Braddock (Gabrielle).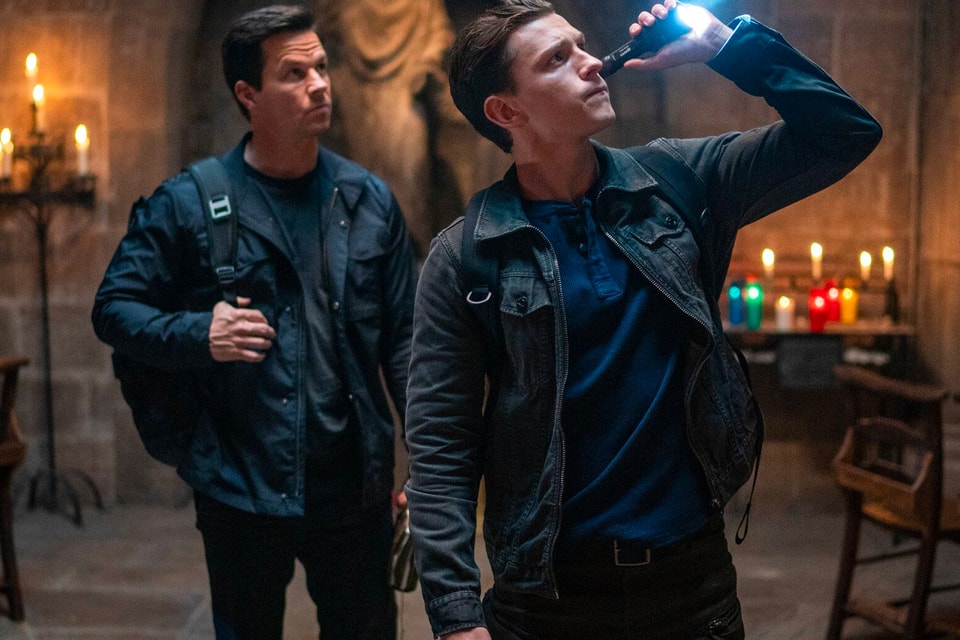 Sam and Nathan "Nate" Drake, two orphaned brothers, are apprehended while attempting to steal a map of the Magellan voyage from a Boston Museum. Sam goes out to live on his own after being expelled from their orphanage for the third time, but he makes a promise to Nate that he'll come back and gives him a ring that belonged to his ancestor Sir Francis Drake.
After fifteen years, Nate pickpockets' wealthy customers while working as a bartender in New York City. Nate is informed by Victor "Sully" Sullivan, a fortune hunter who collaborated with Sam in searching for buried riches left by the Magellan crew, that Sam vanished after aiding him in stealing Juan Sebastian Elcano's diary. Nate offers to assist Sully in locating Sam after he stopped receiving postcards from him.
In order to steal a golden cross connected to the Magellan crew, Sully and Nate head to an auction where they run into Santiago Moncada, the last living member of the Moncada family, and Jo Braddock, the mercenaries' commander. Braddock's men ambush Nate, and the following struggle serves as a diversion for Sully to steal the cross.
The two go out towards Barcelona, the location of the rumored riches, where they meet up with Sully's associate Chloe Frazer, who is carrying a second cross. When Moncada finds out from his father that the family fortune will be given, he instructs Braddock to have his father killed so that he will be the one to get the money.
Elcano's notebook contains hints that Nate, Chloe, and Sully follow to Santa Maria del Pi, where they discover a hidden crypt under the altar. When Nate and Chloe enter, they discover a trap door, but as soon as they open it, water pours into the crypt. Sully assists them in escaping once Braddock's ambush is neutralized.
Nate and Chloe discover a map showing the treasure is in the Philippines after using the two crosses to open a hidden passage. Chloe betrays Nate by taking the map to Moncada and departing while implying that Sully is keeping a secret about Sam.
When Sully finds Nate, he explains that when he and Sam found Elcano's diary, they were ambushed by Braddock; Sam was shot, and Sully just about made it out alive. To find the treasure, Moncada, Chloe, and Braddock's squad board a cargo jet, but Braddock turns on them and murders Moncada, seizing leadership of the mission.
Due to the COVID-19 pandemic, Uncharted release date of December 18, 2020, was repeatedly postponed. Sony Pictures Releasing gave it a theatrical release in the US on February 18, 2022, after its Barcelona Coliseum debut on February 7, 2022.
Critics gave the movie mediocre reviews, criticizing the narrative, casting, and lack of creativity while drawing adverse analogies to video games. However, some critics praised Tom Holland's performance. Uncharted is the fifth-highest grossing movie of 2022 with a global total of $401.7 million.
UNCHARTED – Official Trailer (HD)