Directed By: Fatih Akın
Produced By:
Fatih Akin
Klaus Maeck
Andreas Thiel
Jeanette Würl
Genre: Drama, Most Popular
Starring:
Nurgül Yeşilçay
Baki Davrak
Tuncel Kurtiz
Hanna Schygulla
Patrycia Ziolkowska
Nursel Köse
Cast:
Tuncel Kurtiz as Ali Aksu, a Turkish immigrant to Germany
Baki Davrak as Nejat Aksu, Ali's son, a Turkish German university professor
Nursel Köse as Yeter Öztürk, a Turkish immigrant to Germany
Nurgül Yeşilçay as Ayten Öztürk, Yeter's daughter, a Turkish student and rebel
Patrycia Ziolkovska as Charlotte "Lotte" Staub, a German student
Hanna Schygulla as Susanne Staub, Lotte's mother
İdil Üner as Ärztin
Erkan Can as Cousin Ufuk
Turgay Tanülkü as Cem
Release Date:
Country:
Language:
Distributed By:
ABOUT THE MOVIE
The Edge of Heaven is a 2007 Turkish-German drama that Fatih Akn both wrote and directed. The movie was Germany's submission for the Best Foreign Language Film Oscar category in 2007 and earned the Prix du scénario at the Cannes Film Festival, but it did not get a nomination. A number of foreign film festivals screened the movie after it had its premiere at the Cannes Film Festival in France. On September 27, 2007, it was made available in Germany.
MOVIE PLOT
Yeter's Death
In the movie The Edge of Heaven, After meeting Yeter ztürk (Nursel Köse), retired widower Ali Aksu (Tuncel Kurtiz), a Turkish immigrant who lives in Bremen, Germany, thinks he has found a companion. To cease being a prostitute and live with him, he promises her a monthly stipend. She chooses to accept his offer after threats from two Turkish Muslims on the job she undertakes.
Ali's heart attack occurs before Nejat Aksu (Baki Davrak). Following Which, Ali's son and a professor of German literature, has a chance to answer to the idea of living with a lady of "easy virtue." He becomes more sympathetic toward her after learning that she sent shoes to her daughter, 27, in Turkey to back the claim that she was a shoe saleswoman and that she wished her daughter to have the same education as him.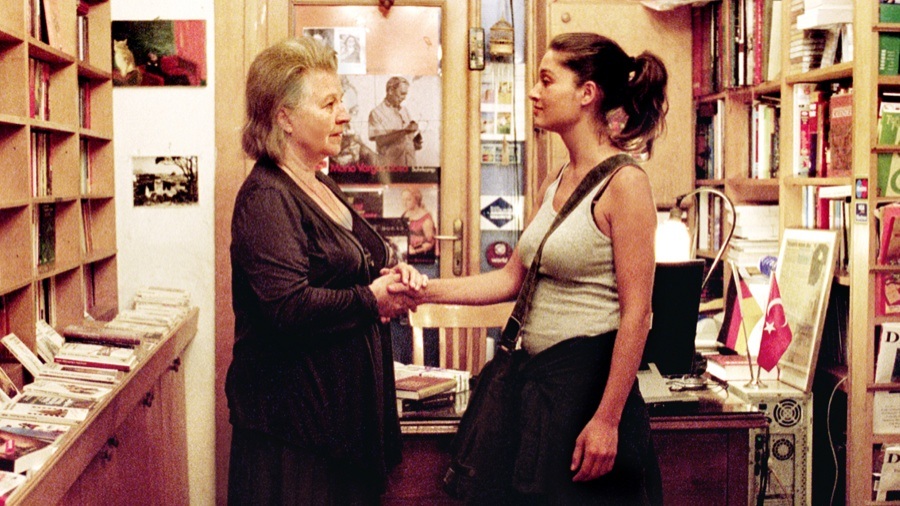 Ali believes Yeter and his kid may have had a relationship after Yeter returned from the hospital. He hits Yeter, killing her with the blow after her threat to leave in response to his intoxicated demands. Prison is ordered for Ali.
When Yeter's daughter Ayten (Nurgül Yeşilçay) goes missing, Nejat sets off for Istanbul to find her and takes on the role of her tutor. He distributes posters with Yeter's picture in the neighbourhood in the hopes that they would help find the daughter since he cannot find her via her relatives and does not have any updated pictures of her. Furthermore, he finds himself enticed into purchasing it after posting a flier at a tiny German language bookshop that just so happens to be for sale.
Demise of Lotte
During a disturbance, a police in plainclothes drops his pistol on the sidewalk. A cloaked individual picks it up and flees while being chased on foot by a battalion of armed cops, just managing to conceal the contraband on an arbitrary rooftop. Ayten is a member of a Turkish rebel organisation that opposes the government.
After her cell is searched, the woman leaves Turkey and assumes a new name in Bremen, Germany, where she finds political friends. Even there, however, she and the people there have a falling out when she can't pay them back for what she owes them, leaving her on the street with almost any money. Her mother's phone number is missing, so she lives illegally and looks for her at nearby shoe stores.
Lotte's Assist to Ayten
Unfavorably to Susanne's mother, Lotte, a university student, offers to support her with food, clothing, and a place to stay. Lotte resolves to assist Ayten in her hunt for her mother after falling in love with her. When Ayten's unlawful status is revealed during a traffic check, her search is interrupted and she makes an asylum claim. Germany decides that Ayten doesn't have a justified fear of political persecution despite Susanne's financial backing. After being sent back, she is locked up.
Inconsolable is Lotte. She goes to Turkey to attempt to rescue Ayten, but as soon as she finds out she may spend 15 to 20 years in prison, she realizes there is little chance of success. To consider her future and go back home, Susanne begs her. Lotte's mother refuses any aid to her, who then stops offering it. In the end, Lotte decides to rent a room from Nejat after being drawn to his bookshop.
In response to Ayten's plea to recover the revolver he snatched during the disturbance, Lotte, who had finally been given a visitation privilege with her imprisoned sweetheart, agrees. However, a group of guys steal Lotte's bag, which also contains the pistol, and they drag it through their neighborhood while she pursues them. She eventually locates them in a deserted lot, where one of them is looking at the rifle. She insists that he give it back; however, when he does, he shoots her dead on the spot.
Infinite Edge of Heaven (literally, On the Other Side)
Ali repatriates to Turkey after being freed and goes back to his home in Trabzon, which lies on the Black Sea coast.
Susanne visits Istanbul where her daughter had been residing for the last several months after learning of her daughter's death. Following her daughter's request to liberate Ayten from jail, she meets Nejat and reads her daughter's journal. Ayten decides to utilise her right to repentance as a result of Susanne's visit and her offer of forgiveness and help. She so succeeds in obtaining her release.
Susanne learns from Nejat that the Bayram celebration honours Ibrahim's sacrifice of his son Ishmael when she inquires about the history of the event they had heard about. She makes the remark that the Bible is of the same narrative in which Isaac is offered as a sacrifice to Abraham.
Later in the movie The Edge of Heaven, Nejat recalls how the tale frightened him as a youngster and how he once questioned his father's willingness to offer him up as a sacrifice if God so directed. Nejat answers Susanne's question by saying that his father stated, "He would make God his enemy in order to protect me," when Susanne inquires as to what his father's response was.
From the shop's noticeboard, Nejat takes down Yeter's flier. He leaves for Trabzon, where his father resides, leaving Susanne in charge of the store.
At Nejat's residence, Susanne offers Ayten a place to stay with her. Nejat waits for his father on the beach when he arrives in Trabzon; however, the man is out fishing.
THE EDGE OF THE HEAVEN TRAILER