Release Date:
September 16, 2022
Directed By: Genevieve Adams
Writers: Genevieve Adams
Produced By: Genevieve Adams, Matt Ott, Jackie Donohoe
Starring: Genevieve Adams, Thomas McDonell, Hari Nef
Production companies: Term Paper Solutions
Distributed By: Gravitas Ventures
Movie Plot:
Agnes, played by Simchas and Sorrows cast Genevieve Adams, is an artist. She is also a former Catholic school girl, but she is secular, free spirited, and some argue that she is atheist. However, to marry the love of her life, Levi (Thomas McDonell), she has to conform to her religious norms. Levi belongs to a conservative Jewish family. Therefore, Agnes has to change her life after a surprise pregnancy. That's the only way to be get acceptance from her lover's family.
Changing her life so dramatically does not prove easy for Agnes as she has questioned herself for whole life. She broke the established rules of the religious world. Thomas McDonell and Genevieve Adams go to a progressive and a modern era Rabbi, Cohen (Hari Nef). They realize that things are not what they appear on the surface.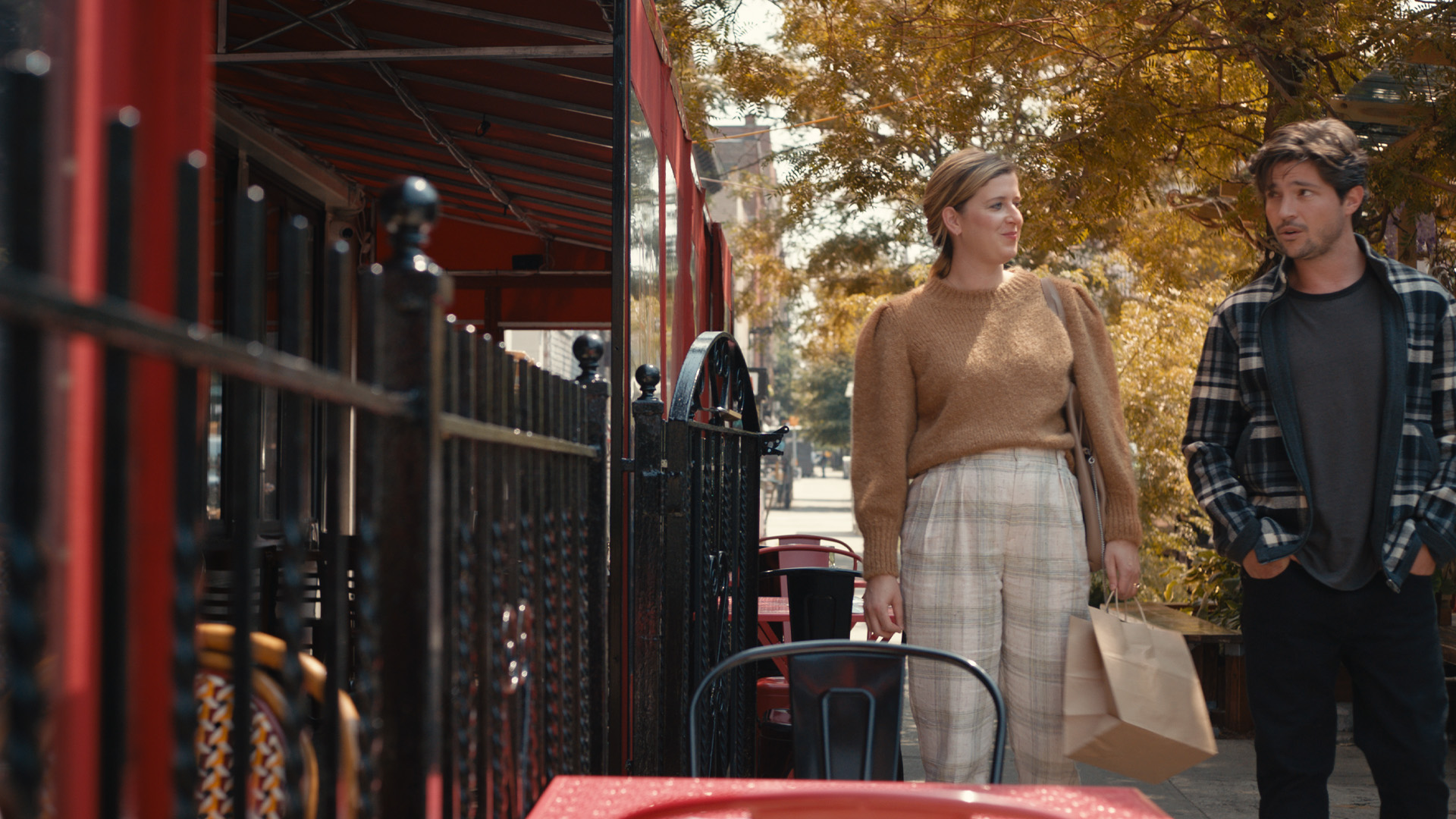 Ultimately, Agnes' secret becomes an open fact and Levi and Agnes have to face the bigger questions. The film covers orthodox as well as modern Judaism. It also explores the themes of orthodoxy, rivalry among the siblings, hypocrisy, love, art, and antisemitism.
Simchas and Sorrows cast includes Hari Nef, Thomas McDonell, Genevieve Adams, Luke Forbes, Julie Halston, Chip Zien, John Cullum, and Annelise Cepero.
This film falls in the category of ambitious films. But it has set a goal that it can never reach. The crew wanted to produce a piece of comedy but jokes are bland and drama has overshadowed the comedy. The only good thing about movie's story is Rabbi Cohen's sermons calling couples and young generation. The rabbi has really put a life to dull spots of the movie. But even those sermons are not enough to rescue the comedy disaster. The thing 'funny' is missing from this comedy picture.
Connection with audience:
Another downside to movie's ratings is the lack of connection with the audience. The audience is largely unaware or uninterested in the Jewish culture. Most of the world's population finds it roots in Judaism, but story could have been made better. Writers failed to tell a story that the audience can relate with themselves. Viewers fast forwarded the movie to hear the sermons of rabbi. This might be a signal that world needs a movie about a rabbi's journey. This might retain audience's attention.
We are unable to determine if Adams' deadpan performance of Agnes plays to her strengths or it is the only note she is familiar with. The picture moves at such a glacial pace and the tension is so muted.
If you still want to give this movie a chance, better watch Simchas and Sorrows trailer on Youtube. The movie was released back in April, 2022 at Cinequest Film Festival. It will hit the internet on September 20, 2022. However, Simchas and Sorrows release date for cinemas is September 16, 2022.
The whole crew, from actors to producers, has tried hard to produce a good watch for the viewers. But may be the luck was not on their side this time. The movie is placed in the genre of comedy, but that is totally missing during the whole-time stamp. It belongs to more to Drama genre.
Trailer: