Directed By: Faruk Aksoy
Produced By: Ayşe Germen
Release Date: February 16, 2012
Starring:
Devrim Evin
İbrahim Çelikkol
Dilek Serbest
Cast:
Devrim Evin as Mehmed II. The 7th Ottoman sultan
İbrahim Çelikkol as Ulubatlı Hasan. Mehmed's friend and mentor, leader of Ottoman cavalry corps.
Dilek Serbest as Era. Orban's adopted daughter he bought from a slave market in Constantinople.
Recep Aktuğ as Constantine XI. The last Byzantine emperor.
Cengiz Coşkun as Knight Giustiniani. Genoese general.
Erden Alkan as Çandarlı Halil Pasha. Ottoman Grand Vizier serving under Murad II and Mehmed II.
Naci Adıgüzel as Grand Duke Notaras. The last Megas Doux of Constantinople.
Erdoğan Aydemir as Orban. A Hungarian master who initially proposes his sketch to Doge of Genoa
İlker Kurt as Murad II. The 6th Ottoman sultan, father of Mehmed II.
Sedat Mert as Zagan Pasha. An Ottoman military commander who is used to be an ardent advocate for the conquest of Constantinople.
Raif Hikmet Çam as Akshemseddin. One of Mehmed's tutors.
Namık Kemal Yiğittürk as Molla Hüsrev. One of Mehmed's tutors who invites Akshemseddin to motivate the Sultan in the 40th day of the siege.
Ömer As as Molla Gürani. One of Mehmed's tutors who invites Akshemseddin to motivate the Sultan in the 40th day of the siege.
Mustafa Atilla Kunt as Şahabettin Pasha. An Ottoman military commander and vizier.
Özcan Aliser as Saruca Pasha. An Ottoman military commander and vizier.
Murat Sezal as İsa Pasha. An Ottoman military commander.
Faik Aksoy as Karaca Pasha. An Ottoman military commander.
Hüseyin Santur as Süleyman Pasha. An Ottoman admiral.
Ali Rıza Soydan as Pope. An unnamed Pope of Vatican (the contemporary Pope in that time was Nicholas V).
Ali Ersin Yenar as Doge of Genoa. An unnamed Doge of Genoa
İzzet Çivril as Cardinal Isidore. A cardinal who offers supports from Vatican to Byzantium.
Adnan Kürkçü as Gennadius Scholarius. An Orthodox theologian
Şahika Koldemir as Gülbahar Hatun. Mehmed's wife, mother of Prince Bayezid.
Edip Tüfekçi as Prince Orhan. Pretender to the Ottoman throne who is an exile in Constantinople.
Aslan İzmirli as Karamanoğlu İbrahim. Bey of Karamanids provoked to rebel against Ottoman Empire by Constantine XI.
Yiğitcan Elmalı as Prince Bayezid. Mehmed II's son.
Oğuz Oktay as Osman I. The founder of Ottoman Empire, Mehmed's forefather.
Tuncay Gençkalan as Abu Ayyub al-Ansari. One of Muhammad's sahaba
Yılmaz Babatürk as Ishak Pasha. An Ottoman general.
Halis Bayraktaroğlu as Kurtçu Doğan. Leader of the Janissary.
Songül Kaya as Lady Emine. Halil Pasha's wife.
Lili Rich as Dancer. Dinner table dancer.
Hüseyin Özay as Ali the Blacksmith. Hasan's teacher.
Buminhan Dedecan as Mustafa. An Ottoman tunnel master.
Emrah Özdemir as Selim. An Ottoman tunnel foreman.
Yiğit Yarar as Hüseyin. An Ottoman soldier.
Lili Rich as Dancer. Dinner table dancer.
Hüseyin Bozdemir as Mahmud. Orban's assistant.
Country: Turkey
Language:
Turkish
Greek
Arabic
Urdu
English
Distributed By:
Runtime: 160 minutes
ABOUT THE MOVIE FETIH 1453
Indeed, The 2012 Turkish epic action movie Fetih 1453 was directed by Faruk Aksoy and produced by him, Servet Aksoy, and Ayşe Germen. The movie, which stars Devrim Evin, Brahim Ellikkol, and Dilek Serbest, is based on the circumstances surrounding Constantinople's fall to the Ottoman Turks during Sultan Mehmed II's rule.
FETIH 1453 MOVIE PLOT
Firstly in Fetih 1453, When Muhammad, the Islamic prophet, was alive in Medina in 627 AD, the movie starts. Other sahabas are informed by Abu Ayyub that a blessed general and army would take control of Constantinople. The 15th century enters the narrative unexpectedly.
Following which, Sultan Muhammad al-Fatih was appointed to the throne by his father Murad II when he was 12 years old. While in charge of the Sanjak of Saruhan, he hears of his father's passing. After the passing of his brother Fathl IV, this causes him great sorrow and opens the door for his return to the throne.
Mehmet Rising to the Throne
He was also 12 years old when Sultan Mehmet initially rose to the throne. However, Murad II abdicated the throne and installed Mehmet after becoming suffocated by the political enmity of his margraves and viziers and feeling profoundly affected by the loss of his beloved son Mohamed. Due to this circumstance, Grand Vizier Halil Pasha, who had considerable power over the Janissaries and the state, was not happy.
Mehmet's Assertions
Subsequently, He was particularly worried by Sultan Mehmet's assertion that the conquering of Constantinople is crucially important. In anticipation of the potential for crusaders to take Ottoman lands by taking advantage of Mehmet, he had Sultan Murat inherit the throne once again. Following which, Mehmet was removed from the throne and delivered to the Saruhan Sanjak.
Mehmet's Comeback
Mehmet now returns to the throne and gains even more authority. Also, Constantinople remains his first goal as an objective. He finds motivation in Muhammad's prophecy that Constantinople will undoubtedly be overthrown. What a fortunate leader he is, and what a fortunate army it is."
Mehmet's choice to live in peace
In addition, Everything that will bring him there is planned out by him. Mehmet chooses to live in harmony with neighbouring nations initially as he makes preparations for his campaign. However, He tells them of his desire to live in peace by sending ambassadors to the Papal States, the Kingdom of Hungary, the Serbian Despotate, the Kingdom of Poland, the Republic of Genoa, and the Republic of Venice.
Gallipoli's Dockyard
In the movie Fetih 1453, As a result of his restoration efforts, Gallipoli's dockyard can now build 100 galleys every year. Sultan Mehmet, in contrast, is viewed as being inexperienced and lacking in vision by the Byzantine Emperor Constantine XI Palaiologos.
Prince Orhan as a Hostage
Following which, In an effort to gain benefit from having Prince Orhan as a hostage, Constantine makes high requests for appropriations. In addition to this, The major goal of Constantine is to make Sultan Mehmet seem bad by submitting to his requests. Sultan Mehmet seems to agree with his requests, but this is merely a ruse.
Ottoman forces immediately departed towards Akşehir after learning of Karaman's uprising.
Mehmet's Consent to Peace
Indeed, Such a powerful force was not what Karamanolu Brahim had anticipated. He calls for calm. Sultan Mehmet consents to the peace since he does not want to endanger his forces needlessly. After the military mission, some janitors approach the state tent on the way back and demand money. They hadn't fought in real warfare.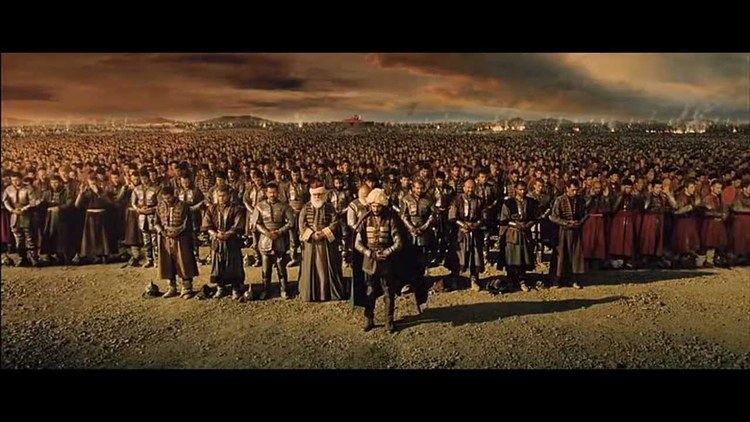 Sending Enthronement
Also, Enthronement is sent out in response by Sultan Mehmet. Kurtçu Doan, the head janitor, is also exiled by him. Grand Vizier Halil Pasha had the janissary on his side. Mehmet rightfully takes control of his army after this occurrence. Besides, Mehmet sends an envoy to the Emperor Constantine after his return to Adrianople, informing him that he would no longer give the stipend for Orhan's ongoing incarceration.
Victory of Sultan Mehmet in FETIH 1453
Finally, in the movie Fetih 1453, The Boazkesen (Rumelian) Fortress was being constructed across from the Anatolian Fortress after this occurrence, according to Mehmet. He is adamant about going to war with the Byzantine Empire.
Even so, The Byzantine soldiers on the walls were defeated by Sultan Mehmet and his army on May 29, 1453.
FETIH 1453 TRAILER