Expected Release Date: July 8, 2022
Language: English
Director: Taika Waititi
Writers: Taika Waititi & Jennifer Kaytin
Genre: Action, Fantasy, Sci-Fi, Adventure, Comedy
Cast: Chris Hemsworth, Taika Waititi, Chris Pratt, Natalie Portman, Melissa McCarthy, Christian Bale, Karen Gillan, Bradley Cooper, Sam Neill, Matt Damon, Tessa Thompson, Pom Klementieff, Jaimie Alexander, Vin Diesel, Russell Crowe, Zeus, Luke Hemsworth, Dave Bautista, Sean Gunn
Cinematography: Barry Baz Idoine, Todd Banhazl
Producer: Kevin Feige, Brad Winderbaum
Production: Marvel Studio
Country: US
Thor: Love and Thunder
Thor: Love and Thunder is a movie about the might God Thor. It's a sequel to 2017's Thor: Ragnarök produced by Marvel Cinematic Universe. Its fourth on the sequel of Thor movies. Thor: Love and Thunder is releasing July 7, 2022. Trailer of the Thor: Love and Thunder portrays Thor's search for the inner peace. Darn! Gods too can get existential crisis. Nothing unusual!
In the previous sequels we see that Thor helps the Avengers to combat Thanos. He saves the lives of the people who got "snapped". Now he seems to be done with avenging game and wants to do some cosmic adventure with Guardians of the Galaxy.
Apparently, Thor wants to retire from his duties and pursue his search for the inner peace. Unfortunately, Gorr the God Butcher (played by Christian Bale) does not seem to like the idea. Gorr wants nothing less than the complete racial eradication of Gods. Sounds kind of too crazy. It is.
Cast of Thor: Love and Thunder
To fight back Thor asks the help of King Valkyre played by Tessa Thompson, Jane Foster—the ex-girlfriend of Mighty god—played by Natalie Portman and Korg played by Taika Waititi. To add up the spice Jane got some powers which she did not have previously. She controls Thor's hammer as well. Together they all go for a universal adventure to stop Gorr from enacting his evil plans and to save the universes.
Chris Hemsworth said that "It's something I'm so, so proud of. This film is incredible, I cannot wait for the fans to see it; it is the greatest thing I've ever had the pleasure and honour of working on."
PG-13 Rated Thor: Love and Thunder for Nudity
PG-13 rated the movie for nudity. It says that "Intense sequences of sci-fi violence and action, language, some suggestive material and partial nudity." In the trailer we see blurred butt of Chris Hemsworth. We assume that this scene is termed as nudity.
In the trailer we see the scene of partial nudity when "Russell Crowe's Zeus accidentally flicks off all of Thor's clothes". The scene also tells another interesting thing about Thor. As he gets naked, we see Thor's back has Loki's tattoo. This is the bast fare one can expect from Marvel sci-fi violence, thrill and action.
Marvel Cinematic Universe has a reputation of not having "qualms about showing male flesh". We have some scenes in early MCU movies showing Peggy Carter staring Captain America's body. Other times it was Jane Foster's entry while Thor was changing clothes. We witnessed these shirtless scenes. Such tiny treats were given to audience by almost every Marvel hero.
Its apparently surprising that this scene is considered as "partial nudity." There is a running joke about "Cap having "America's ass" in Avengers: Endgame".
Who is Gorr the God Butcher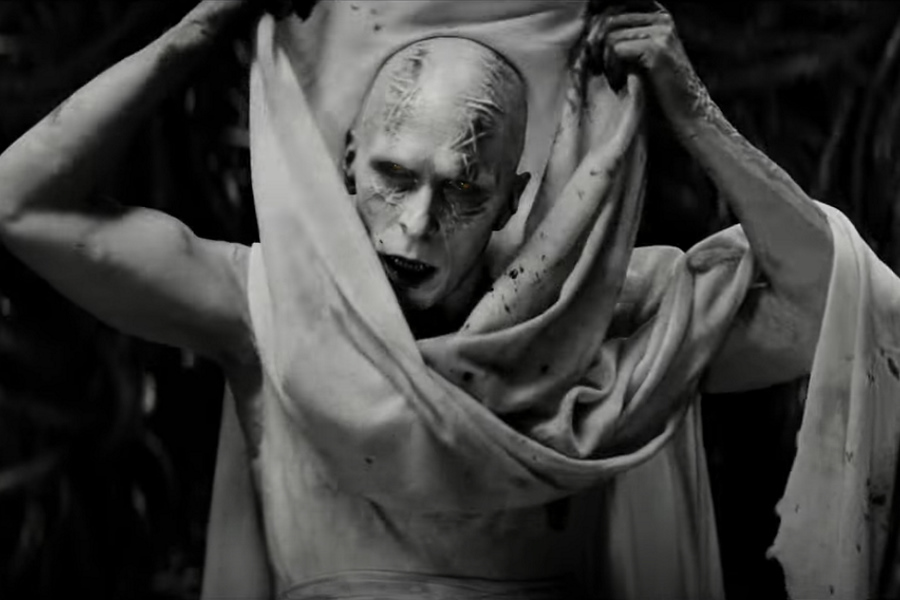 Gorr is also God, but he is an Avenger. He was first appeared in Thor: God of Thunder series. It appears that he has a long history with the Thunder. Christian Bale played the role of Gorr in Love and Thunder.
Long ago Gorr lived on a deserted island where people were suffering from famine and all sorts of miseries of life.
They used to pray but no god listened to them. Gorr lost his faith in gods. One day two gods appear in front of him. One of them asks for the help as both are severely injured. Gorr takes out his sword and kills him.
Here his journey of killing gods starts and eventually he encounters Thorr. In trailer we hear Gorr saying: "The only ones who gods care about is themselves," he says in the trailer. "So this is my vow: All gods will die."
Trailer