The Silent Twins RELEASE DATE
May 24, 2022 (Cannes)
September 16, 2022 (United States)
The Silent Twins SOUNDTRACK
Marcin Macuk
Zuzanna Wronska
The Silent Twins CAST
Starring by: Letitia Wright, Tamara Lawrence, Nadine Marshall
Actors and their roles:
Letitia Wright as June Gibbons
Leah Mondesir-Simmonds as young June Gibbons
Jodhi May as Marjorie Wallace
Tamara Lawrence as Jenifer Gibbons
Eva-Arianna Baxter as young Jennifer Gibbons
Treva Etienne as Aubrey Gibbons
Nadine Marshall as Gloria Gibbons
Michael Smiley as Tim Thomas
Jack Bandeira as Wayne Kennedy
Amarah-Jae St. Aubyn as Greta Gibbons
Declan Joyce as George Kennedy
Tony Richardson as Dr. John Rees
Ian McQuillan-Grace as Mark (Greta's husband)
Rita Raider as Diane Kennedy
Julian R. Booth as Court Clerk
Tony Richardson as Dr. John Rees
 The silent twins cast also includes Kinga Peris, Martin Hue Henley and Jade La' Rue.
Genres: Biographical, Thriller, Drama
Country of origin: United States, United Kingdom, Poland
Languages: English
Director: Agnieszka Smoczynska
Producers:
Klaudia Smieja- Rostworowska, Ewa Puszczyńska, Ben Pugh, Joshua Horsfield, Antia Gou, Alicia van Couvering, Letitia Wright.
Writer:  Andrea Seigel
Distributor: Focus Features (Unites States), Universal Pictures (International)
Aspect Ratio: 1.33:1
Runtime: 113 minutes
The Silent Twins Plot
The Silent Twins plot revolves around the story of two sisters June Gibbons (Letitia Wright) and Jenifer Gibbons (Tamara Lawrence). There is also a book based on the story of the two sisters named "The silent twins" written by Marjorie Wallace.
The Silent Twins is based on true of the true story of the identical twin sisters Jenifer Gibbons and June Gibbons. June and Jenifer Gibbons became famous as "The Silent Twins" as they only communicate with each other. They developed their language which only they could understand. So, they became increasingly reserved and eventually distant from their family.
The official plot synopsis of the film reads as:
"June and Jennifer Gibbons are twins from the only Black family in a small town in Wales in the 1970s and '80s. Feeling isolated from the community, the pair turn inward and reject communication with everyone but each other, retreating into their fantasy world of inspiration and adolescent desires. So, after a spree of vandalism, the girls are sentenced to Broadmoor, an infamous psychiatric hospital, where they face the choice to separate and survive or die together."
The film has several stages unveiling the twin sister's story. The twins are very close to each other. So, it shows how the twins were in a need of love. So, love who understand and respect their talks, jokes, and private existence system.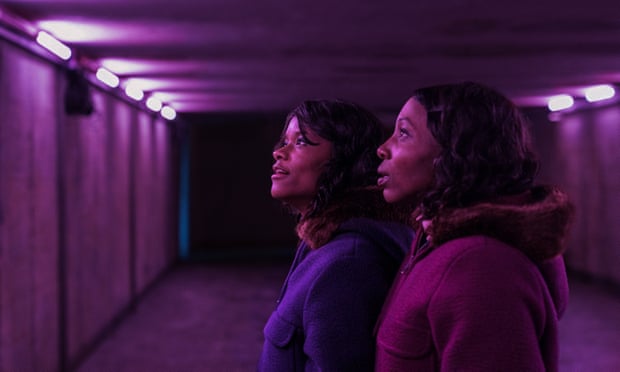 The twins got involved in crimes like theft, pyromania, hooliganism, etc. Due to their involvement in criminal activities, they were admitted to Broadmoor Hospital. So, at last they were given the choice there whether to survive separately or die together.  
So, the film depicts the way the twins communicate with others which requires no speech. The movie beautifully shows the bond between Gibson's sister. So, the two share such a strong, pure bond that only they could understand each other. Their pure bond and desire to always live together is something that touches the heart.
The Silent Twins Trailer
The silent twins trailer gives an insight into the life of the twin sisters who grew up in a Black family. From the trailer, fans get an idea of how the two sisters were close to each other.