The Broken Hearts Gallery is released on September 11, 2020. The movie is based on romance and comedy, directed by Natalie Krinsky.
The Broken Hearts Gallery Release date:
September 11, 2020.
The Broken Hearts Gallery Cast:
Staring By:
Dacre Montgomery, Geraldine Viswanathan, Molly Gordon, Phillipa Soo, Bernadette Peters, Taylor Hill, Suki Waterhouse, Megan Ferguson, Ego Nwodim, Raymond Ablack, Utkarsh Ambudkar, Arturo Castro.
Actors and their roles:
Dacre Montgomery as Nick Danielson, a kind and handsome hotel developer who works with Lucy.

Geraldine Viswanathan as Lucy Gulliver, an assistant at The Woolf Gallery in New York.

Utkarsh Ambudkar as Max Vora, Lucy's boyfriend and colleague.

Molly Gordon as Amanda, a Law student and Lucy's friend and roommate. 

Phillipa Soo as Nadine, a model and Lucy's friend and roommate. 

Arturo Castro as Marcos, Nick's friend. 

Bernadette Peters as Eva Woolf, Lucy's boss.

Taylor Hill as Taylor.

Suki Waterhouse as Chloe.

Megan Ferguson as Randy.

Ego Nwodim as Harvard.

Raymond Ablack as Clayton.
Sound Track: Genevieve Vincent.
Country of Origin: USA, Canada. 
Language: English
Run Time: 1h 48m
Director: Natalie Krinsky
Producer: David Gross
Writer: Natalie Krinsky
Distributors: Sony Pictures Releasing, Elevation Pictures. 
Production Companies: No Trace Camping, TriStar Pictures, Telefilm Canada, Stage 6 Films, Ontario Creates.
Movie Plot:
The Broken Hearts Gallery movie is full of romance and comedy, written and directed by Natalie Krinsky. She is known for her two projects Gossip Girl and Red Band Society. David Gross is a director whose one of the most famous projects is ABC Series Desperate Housewives. Furthermore, Dacre Montgomery as Nick and Geraldine Viswanathan as Lucy are the main leads of the movie.
In May 2019, Dacre Montgomery, Geraldine Viswanathan and Utkarsh Ambudkar joined The Broken Hearts Gallery Cast. However, in September 2019, the rest of the stars joined the cast.
The story begins with young and beautiful Lucy lives in New York city. She works as assistant in The Woolf Gallery. Max is Lucy's boyfriend and colleague. Lucy trusts Max and shares her work information with him. She keeps discussing Max with her friends and roommates Amanda and Nadine. Amanda is a law student and Nadine is a fashion model. 
One day Lucy finds out Max is cheating her with his ex and loses her job at the gallery. She was drunk and roaming on roads in disappointment. So she tries to sit in the car and finds out that its not hers. But a guy named Nick owns that car, drives Lucy to home. Lucy talks to Nick about Max and her job. Heartbroken and hopeless Lucy remains in the room for many days. Amanda and Nadine try to take out Lucy from her room but failed.
Finally they convinced her to move on. Lucy wants to get rid of all the stuff which reminds her about her relationship with Max. Lucy tries to sell them but she was unable to do it. But one day Lucy found Max and her girlfriend sitting in the restaurant and went to them. Nick was in the restaurant too and kept watching Lucy, before she reached to them Nick stopped her.
Lucy Finds a concept for Gallery:
Lucy kept trying to sell Max's stuff so one day she visited Nick's place. But Nick was busy with his renovation of the hotel for his project. Then, He takes Max's tie out and hangs it on a wall. Lucy suddenly catches a concept for her gallery and gives it the name "The Broken Hearts Gallery". Soon she feels like expanding the idea and shares break up stories with pictures on the internet which go viral.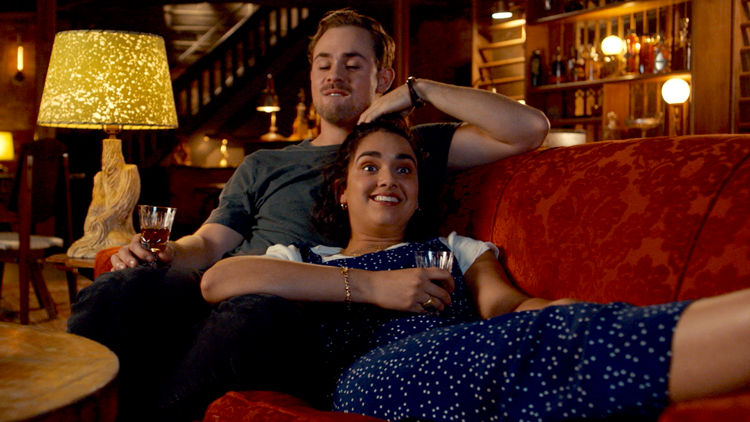 Many people who failed in their relationships contacted her because they wanted to donate their broken-relationship related stuff. Lucy designs a gallery with the donated stuff and she finds some art pieces by herself too. Nick encourages and supports Lucy for her gallery and Lucy works at Nick's hotel for free. So they both became partners and collaborate with each other for work. 
Further more, Nick spent all his budget on the hotel renovation and needs more money to continue his work. He goes with Lucy looking for furniture and they both talk about each other. During it, Max approached Lucy with a birthday cake and convinced her to meet at lunch the very next day. So, at lunch Lucy discussed with him about her gallery and Max told her about Eva Woolf, Lucy's ex-boss. Eva was providing space for the gallery.
What Next?
Now what's going to happen? Is Lucy going to page up with Max or she will get involved with Nick. If she chooses Max again then Will he be sincere with Lucy this time? Will Nick be alone at last or he'll be succeeded in making his couple with Lucy. The story goes on and you will finally find out, WHAT'S GOING TO BE HAPPEN.
The Broken Hearts Gallery Genre is romance and comedy. So the movie is all about Lucy's failed relationships, Nick's struggle and their passion. The story revolves around Lucy's character, how she overcame her failed relationship. About her struggles to pursue her passion when she loses her job. The Broken Hearts Gallery Trailer was released on June 21, 2020. The movie was filmed in May 2019. The Broken Hearts Gallery Release Date is September 11, 2020  in the theaters of USA and Canada.
The Broken Hearts Gallery Trailer:
Sony Pictures Releasing released The Broken Hearts Gallery on June 21, 2020. Trailer gives insights of romance filled with comedy and the struggle of passionate Lucy and Nick.