Genre: Comedy, Animation
Directed By: Ant Ward Andy Suriano
Adapted From: Teenage Mutant Ninja Turtles
Produced By: Vladimir Radev, Mark Martens
Starring: Ben Schwartz, Omar Benson Miller, Brandon Mychal Smith, Josh Brener, Kat Graham, Eric Bauza, and Haley Joel Osment.
Production companies: Nickelodeon Animation Studios
Distributed By: Netflix
Release Date: August 05, 2022
Movie Plot
Longtime fans of the Teenage Mutant Ninja Turtles were apprehensive when the new series, Rise of the Teenage Mutant Ninja Turtles debuted in 2018, because it was the first time the series had strayed from its usual formula, with a more serious tone, a bold design aesthetic, and a new take on its lore. Rising may be coming to an end next week after four years, but the series has shown that wonderful things come to those who wait four years in advance.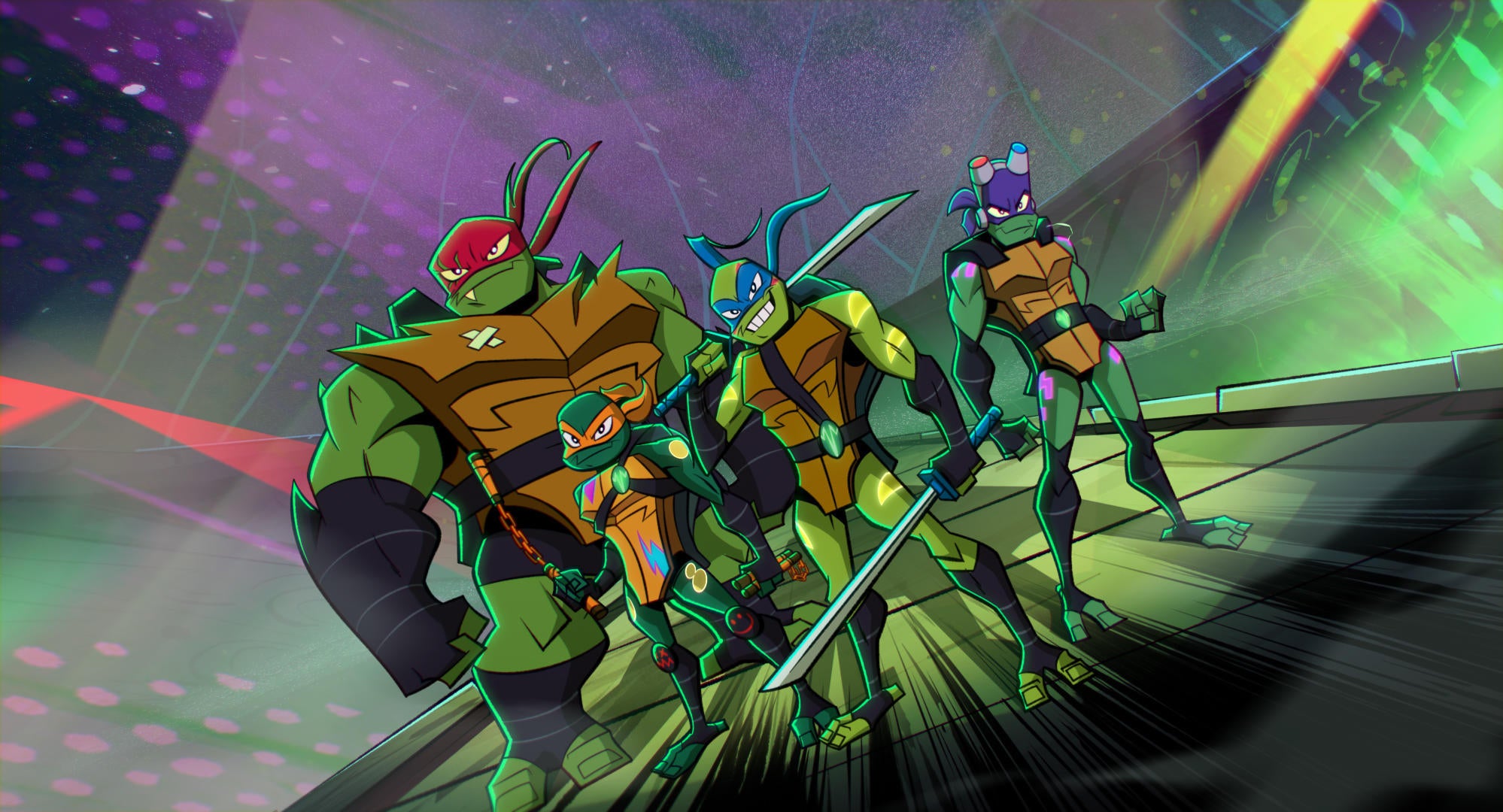 Rise of the Teenage Mutant Ninja Turtles: The Return of Splinter (Eric Bauza) takes place after the events of Rise's second season, when the Turtles reunited with their father Splinter (Eric Bauza) to confront the evil beast Shredder.
After a devastating extraterrestrial invasion of parasitic monsters known as the Krang decimates New York City, the movie starts not with our protagonists in a half-shell as in Rise, but in an apocalyptic future. Older versions of Leonardo and Michaelangelo (Ben Schwartz and Brandon Mychal Smith) thrust a young Casey Jones (Haley Joel Osment) back into contemporary New York with one simple mission: find the Turtles, whom he knows as legendary, battle-hardened senseis on the frontline of an apocalyptic war, and convince them to help him stop the Krang from shoving them into the ground.
In order to make the movie, Casey had to find the younger versions of his masters along with their brothers Donatello (Josh Brener) and Raphael (Omar Benson Miller), as well as their best friend April O'Neill (Kat Graham)—still grappling with their transition from goofy would-be ninjas to the heroes of the Hamato Clan—and things begin to go a bit pear-shaped, as expectation meets reality and neither side is too eager to listen to the other.
An Adventure?
As a possible end to Rise as a continuing Ninja Turtles franchise, The Movie stands alone as a wonderful adventure that fans of any variation of the TMNT may appreciate. Even if you haven't seen Rise, you can still enjoy the Movie and have a great time because it relies on all the familiar elements. Beloved mainstay support characters like Casey, who has a lot of screen time alongside Splinter and April, the Krangs as an iconic TMNT villain only second to Splinter in recognition, and the conflict and camaraderie between the four brothers.
Those who have been fans of Rise for a while will be rewarded for their devotion with heartfelt moments and nods to their favorite characters, even though it's a shame that some of the original cast won't be making a return for this last chapter of the team's heroic journey.
Rise of the Teenage Mutant Ninja Turtles Trailer