Movie release date: July 15, 2022
Movie cast: Michael Cera, Samuel L. Jackson, Ricky Gervais, Mel Brooks, George Takei, Gabriel Iglesias, Djimon Hounsou, Michelle Yeoh, Kylie Kioka, Aasif Mandvi, Cathy Shim.
Movie soundtrack: Bear McCreary.
Starring by: Michael Cera as Hank, a bumbling beagle who aspires to be a samurai
Samuel L. Jackson as Jimbo, Hank's reluctant tuxedo cat sensei who trains him to become a samurai
Ricky Gervais as Ika Chu, a warmongering Somali cat
Mel Brooks as Shogun, an empathetic British shorthair who is the ruler of Kaka Mucho.
George Takei as Ogha, a muscular Manx cat who is the leader of Ika Chu's army.
Gabriel Iglesias as Chuck, a clumsy calico cat.
Djimon Hounsou as Sumo, a giant ginger cat.
Michelle Yeoh as Yuki, an optimistic female Persian cat who is Emiko's mother.
Kylie Kioka as Emiko, a feisty young Persian cat who also wants to become a samurai
Aasif Mandvi as Ichiro, a slim tuxedo cat.
Cathy Shim as Little Mama, the grand dame of Kaka Mucho.
Genres: Animated, Comedy
Country of origin: United Kingdom. United states. China.
Languages: English.
Directed by: Rob Minkoff Mark Koetsier Chris bailey.
Produced by: Rob Minkoff Adam Nagle Peter Nagle Guy Collins Yair landau.
Written by: Ed stone & Nate hopper.
Distributed by: Paramount pictures via nickelodeon movies: United states and select territories Huayi brothers (China). Sky cinema (United Kingdom). Production companies: Ani venture. Align. Brooks films. Flying tigers' entertainment. GFM animation. Cinesite. HB wink animation.
Runtime: 97 minutes.
Movie Plot:
An animated comedy called Paws of Fury: The Legend of Hank has more celebrities in it than a Hollywood sidewalk. The 1974 comedy western Blazing Saddles, starring Richard Pryor and Mel Brooks, is intended to serve as a loose inspiration for the movie. It is widely regarded as one of the funniest and most forward-thinking movies ever made.
Even though the film did a lot for African-Americans in cinema, it wouldn't be received the same way if it were released today. That may be a contributing factor to Paws of Fury's turbulent journey since it started production in 2014.
It took some time for the movie, which was first envisioned in 2010, to get off the ground. The trend in Hollywood at the time to incorporate Asian aesthetics into American themes is probably where the original idea originated. It must have been simple to connect an homage to one of Mel Brooks's best movies when he was involved.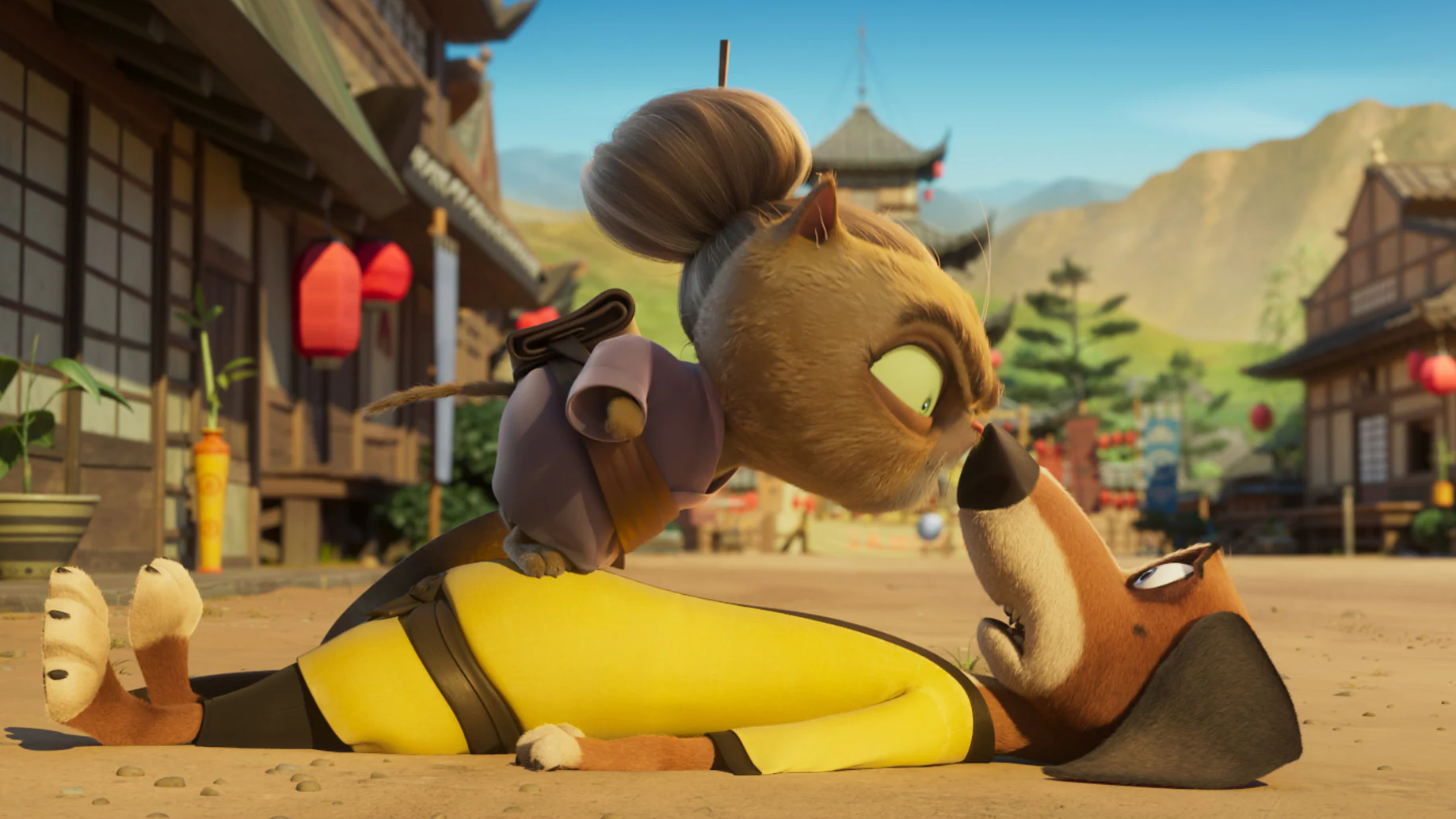 However, the seed for the film's concept was laid in a cultural environment that was conducive to animation. It must have been a small step to switch the project from a live-action picture to an animated one, with popular franchises like How to Train your Dragon and Kung Fu Panda just starting to gain traction. Blazing Samurai eventually changed into Paws of Fury.
To make the message more palatable for kids, the film would focus on the ongoing conflict between cats and dogs rather than a racially charged movie intended at adults. For a while, the movie's title remained Blazing Samurai, and on April 14, 2017, it was scheduled for release.
However, difficulties arose with the project when Arc Productions, the initial principal animation studio, filed for bankruptcy in 2016. The movie struggled financially before it was ultimately confirmed that it had funding in 2019.
Unfortunately, they were unaware of the difficulties that awaited them. Due to Covid's problems and the financial difficulties the movie faced, its distribution rights changed hands multiple times until 2022, when Paramount Animation bought them and was eventually able to release the movie, albeit cautiously.
Paws of Fury: The Legend of Hank movie official trailer:
PAWS OF FURY: The Legend Of Hank Trailer 2 (2022)