Director: Adam Randall
Producer:
Vincent Gatewood
Ben Pugh
Charles Morrison
Writer:  Brent Dillon
Release Date: October 20, 2021
Soundtrack: 
Drum & Lace
Ian Hultquist
Starring By:
Jorge Lendeborg Jr.
Debby Ryan
Lucy Fry
Raul Castillo
Sydney Sweeney
Megan Fox
Alife Allen
Cast
Jorge Lendeborg Jr. as Benny
Debby Ryan as Blaire
Lucy Fry as Zoe
Raul Castillo as Jay
Sydney Sweeney as Eva
Megan Fox Grace
Alife Allen as Victor
Alexander Ludwig as Rocko
Marlene Forte as Abuela
Ash Santos as Maria
Bryan Batt as Gio
Lee Coc as Andre
Kevin Reid as Victim Max
Devyn A. Tyler as The Concierge
Michael Bekemeier as Handsome Pale Clubber
Hunter Buke as Daniel
CG Lewis as Jimmy
Dane Rhodes as Officer Anderson
Robert Larriviere as Professor
Jaren Mitchell as Tad
Nandy Martin as Brittany
Ash Santos as Maria
Marlene Forte as Abuela
Country: United States
Languages: English
Distributor:  Netflix
Runtime: 108 minutes
ABOUT THE MOVIE
American vampire thriller Night Teeth was produced in 2021 and is directed by Adam Randall from a script by Brent Dillon. The movie stars Alfie Allen, Debby Ryan, Lucy Fry, Raul Castillo, Sydney Sweeney, Megan Fox, and Jorge Lendeborg Jr. On October 20, 2021, Netflix will release Night Teeth.
MOVIE PLOT
Blaire (Debby Ryan) and Zoe (Lucy Fry) are two friends who hire Benny (Jorge Lendeborg Jr.) to drive them to different places in Los Angeles. They hire Benny in place of his brother Jay (Raul Castillo). Benny does not know that both the girls are vampires. 
Victor (Alife Allen), a wealthy vampire lord, plans to kidnap Jay's girlfriend. Jay is a member of the human council that is responsible for maintaining peace between vampires and humans. Jay and his allies begin hunting down all Los Angeles vampires.
Victor then planned to seize power for himself and wipe out all his other lord fellows. He asks Blaire and Zoe to create so much chaos in the city that they can distract the vampire hunters.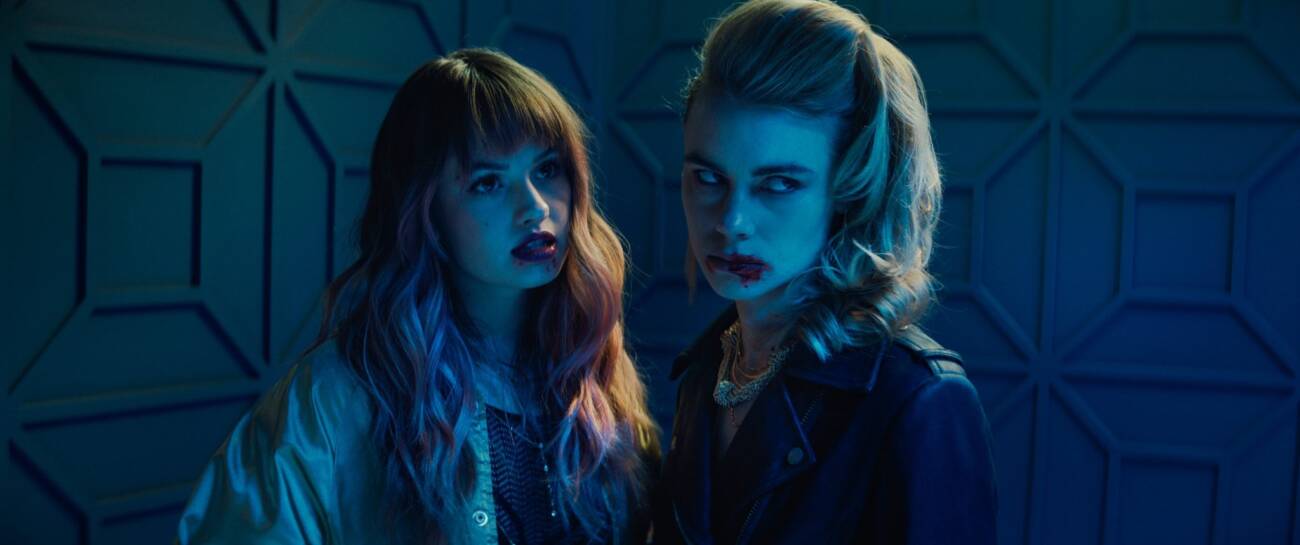 One day, Benny drops the girls at a hotel. At that time, Benny discovers that a hotel is a feeding place for the vampires. He realizes that Blaire and Zoe are using him. The girls at first threaten Benny but later decide to let him go so they can reach out to Jay.
Benny drops the girls at their last location, which is Victor's home. Blaire then asks Benny to leave, but he is unwilling to leave his brother alone. In Victor's house, there are many human prisoners. Victor and Zoe threaten Benny that they will kill him. Blaire turns against Victor and Zoe as she has  feelings for Benny. 
Zoe stabs Blaire. To rescue Blaire, Benny remotely activates his brother's car and smashes the window to expose sunlight to Zoe. And this killed Zoe. Victor tries to attack Benny by using Jay as bait. Benny transforms into a vampire. Jay decides to start training as a professional hunter and asks Benny to fight by his side whenever there is chaos in the city. 
NIGHT TEETH TRAILER