Director:  Cary Joji Fukunaga
Producer:
Carol Cuddy
Jessica Levin
Jon Mallard
Genre: Comedy, Drama, Science fiction
Starring:
Emma Stone
Jonah Hill
Sonoya Mizuno
Gabriel Byrne
Sally Field
Cast:
Justin Theroux as Dr. James K. Mantleray
Kathleen Choe as Soo.
Danny Hoch as Alexander.
Stephen Hill as D'Nail.
Allyce Beasley as Amelia.
James Monroe Iglehart as Carl
Dai Ishiguro as Head Control Tech
Sejal Shah as First Medical Tech
Billy Magnussen as Jed Milgrim
Julia Garner as Ellie Landsberg
Nate Craig as Phil
Jemima Kirke as Adelaide
Jesse Magnussen
Alexandra Curran as Holly Milgrim
Rome Kanda as Dr. Robert Muramoto
Aaralyn Anderson as Belle Milgrim
Hannah and Cailin Loesch as the Ladies of Arquesta
Trudie Styler as Angelica Milgrim
Christian DeMarais as Mike Milgrim
Geoffrey Cantor as Frank
Josh Pais as Andy
Ariel Kavoussi as Audra.
Grace Van Patten as Olivia Meadows.
Lev Gorn as Sokolov
Hank Azaria as Hank Landsberg
Selenis Leyva as Patricia Lugo
Leo Fitzpatrick as Lance
Jojo Gonzalez as Agent Lopez
Maxine Prescott as Mrs. Finklestein
Joseph Sikora as JC
David Fierro as Bobby
Glenn Wein as Lord Jopling
Jonathan Rentler as Greg Nazlund
Production Companies:
Parliament of Owls
Country of origin: United States
Languages: English
Release Date: September 21,2018
Distributor: Netflix
Runtime: 26-47 minutes
ABOUT THE MOVIE
Maniac is an American television miniseries of 10 episodes. The official announcement for the series was made in 2016. Principal photography began in August 15, 2017 and concluded on November 2017.
MANIAC PLOT
Maniac follows the story of two strangers, Owen (Jonah Hill) and Annie (Emma Stone), who connects during a  drug trial test conducted by Neberdine Pharmaceutical Biotech. Owen has schizophrenia, but he hides the symptoms from his family. His family runs an industrial business.
When Owen was fired from his job, his father offered him to join his company, but he refused. Owen comes to know about a new drug test at Neberdine Pharmaceutical. The drug is said to cure all diseases. Owen signs for the test.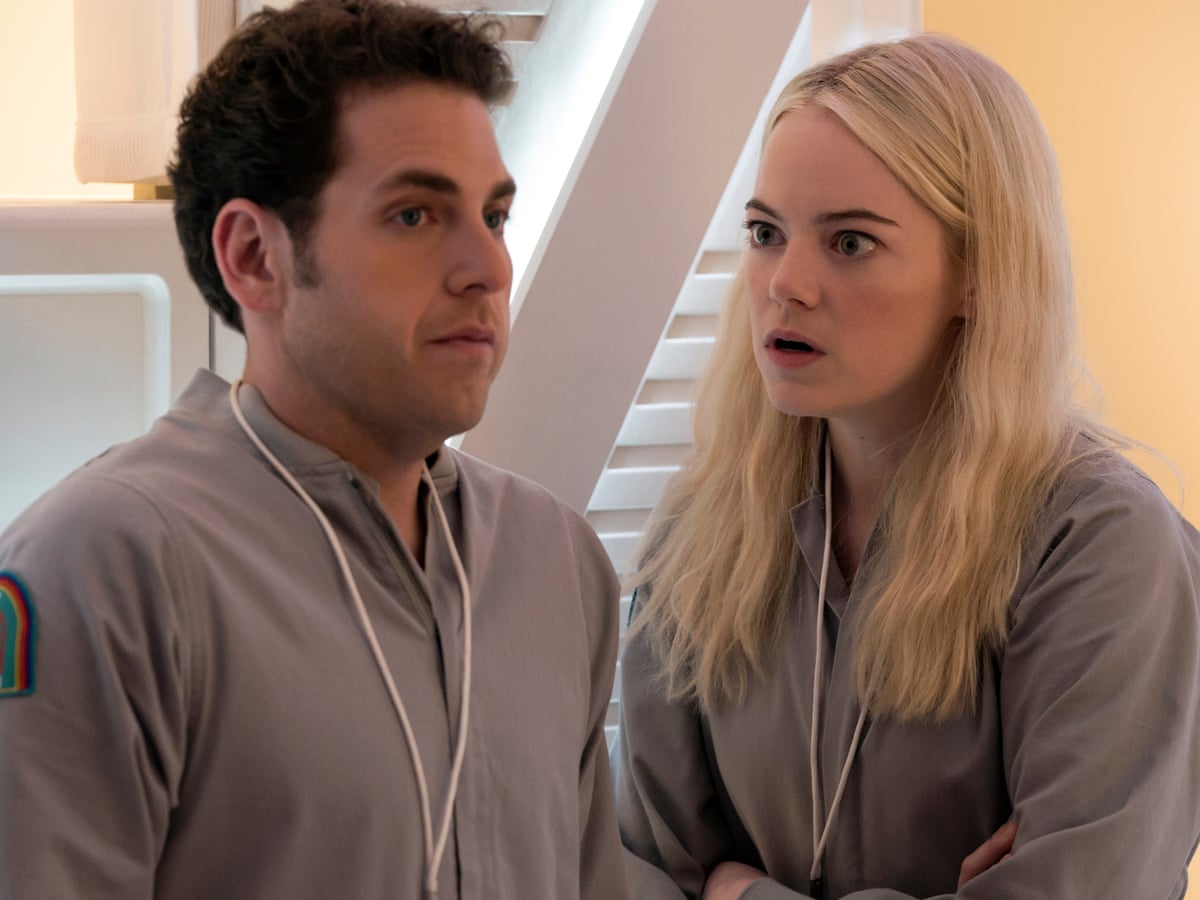 During the drug trial, Annie takes the "A" pill, after which she relives the death of her sister Ellie. After that, during the "B" pill trial, Annie and Owen transition into a shared fantasy where they become Arlie and Ollie.
After the "B" pill test, Annie realizes that her experiences with Owen on this pill are unique, causing her to feel close to Owen. Owen, however, feels that his connection to Annie is a symptom of his schizophrenia.
The final phase of the drug trial, the "C" pill, begins. Annie dreams that she is in an epic fantasy with her sister. At the same time, Owen sees that he and his family are mobsters.
When the trail ends, they wake up and leave for their homes. They both say goodbye to each other. Owen assures Annie that he will not proceed in a relationship with her. 
Annie decides to leave for Salt Lake City and visit her father. Annie realizes how fond she has become of Owen and asks him to accompany her to Salt Lake City. She tries to convince Owen that they both have a future together. Both head to Salt Lake City together.
MANIAC TRAILER