Release date: June 8, 2022 (El Captain Theater), June 17, 2022 (United States)
Language: English
Director: Angus MacLane
Genre: Sci-Fi, Action, Adventure
Cast: Chris Evans, Keke Palmer, Peter Sohn, Taika Waititi, Dale Soules, James Brolin, Uzo Aduba, Mary McDonald-Lewis, Isiah Whitlock Jr, Angus MacLane, Bill Hader, Efren Ramirez, Time Peake
Cinematography: Jeremy Lasky (camera), Ian Megibben (lighting)
Producer: Galyn Susman
Production: Walt Disney Pictures, Pixar Animation Studios
Starring: Chris Evans, Keke Palmer, Peter Sohn, Taika Waititi, Dale Soules, James Brolin, Uzo Aduba, Mary McDonald-Lewis, and Isiah Whitlock Jr.
Country: United States
About Lightyear 2022 Movie
Pixar's Lightyear is the spin-off of Toy Story 1995. Lightyear 2022 is a computer-animated science fiction action-adventure film. It is produced by Pixar Animation Studios and distributed by Walt Disney Studios Motion Pictures. It tells a story of a young astronaut Buzz Lightyear, who got stranded on a hostile planet with his commander and tried to find a way back to his home.
In the opening titles, it is shown why this movie exists. Capitan Buzz Lightyear, during a space exploration mission, got diverted from the planned trip to explore a previously unknown planet. While trying to exit escape from the planet, Buzz crashes the ship and is forced to awaken the scientist on board to fix it.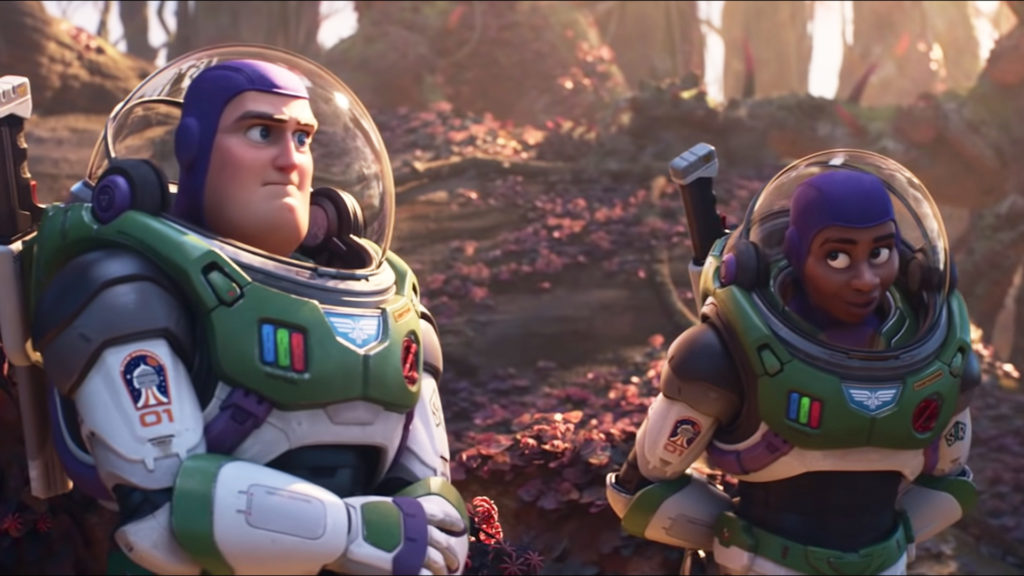 Lightyear trailer was released on 27th October 2021. In December 2021 Pixar announced the news of its release with a 30-second teaser video and the first look at Lightyear buzz.
Another trailer of the movie was realized on April 2, 2022. It gave the fans another look at the Lightyear movie and introduced the rest of the cast as well. It also revealed more about the movie's plot.
The setup is simple enough. Directors and writers have done a very good job in mocking the type of space movie that would have existed in the 1990s.
After a turgid opening of 30 minutes, the movie finally gets an injection of pace and storyline. From that point on it's a fun if predictable adventure as Lightyear and a bunch of join forces to take on the baddies, discovering stuff about themselves along the way.
A major plus is Sox, a great supporting character. It is one of the film's two saving graces, the other one is visuals. Sox is the best character in the Lightyear movie. Peter Shon voiced over for the character of Sox.
Pixar was able to add back a cut scene of Hawthorne, making Lightyear a victim of review bombing. Its current IMDb rating is 4.1/10 making it the worst-rated Pixar movie to date. With 2,100 (1 star ratings) Light year has unfortunately plummeted.
Pixar fans and critics are enjoying the film, scoring it 79% on Rotten Tomatoes.
Pixar animation studio has been swallowed by online hate, backlash, and controversies for Lightyear movie. Fans are stunned to see the current state of Pixar Lightyear surpassing the hated Cars (2006) sequel.
The climax says, "Hey kids don't strive to fix your mistakes, just settle and make the most of your mess."
The whole tale is not as gripping, emotionally or narratively. The message don't be tunnel-visioned and working as a team is fine.
While Lightyear is being banned in many countries, many viewers are still in wait to see what's next for the future of Toy Story.
The movie has stunning visuals, but to sump the review in simple words it can be said Lightyear movie is like a videogame that is fun in playing but boring to watch.
Lightyear 2022 Trailer