Directed By: Justin Baldoni
Written By:
Mikki Daughtry

Tobias Iaconis
Produced By: 
Cathy Schulman

Justin Baldoni

Christopher H. Warner
Starring
Haley Lu Richardson

Cole Sprouse

Moisés Arias
Cinematography: Frank G. DeMarco
Cast
Haley Lu Richardson as Stella Grant

Cole Sprouse as William "Will" Newman

Moisés Arias as Poe Ramirez

Kimberly Hébert Gregory as Nurse Barbara

Parminder Nagra as Dr. Hamid

Claire Forlani as Meredith Newman

Emily Baldoni as Nurse Julie

Cynthia Evans as Erin Grant

Gary Weeks as Tom Grant

Sophia Bernard as Abby Grant

Cecilia Leal as Camila
Edited By: Angela M. Catanzaro
Production Companies:
Distributed By: Lionsgate
Release Date: March 15, 2019
Country: United States
Running Time: 116 minutes
Language: English
ABOUT THE MOVIE
American love movie Five Feet Apart is a 2019 movie that was written and directed by Mikki Daughtry and Tobias Iaconis. Claire Wineland, a cystic fibrosis patient, served as the inspiration for the movie. Cole Sprouse and Haley Lu Richardson play two teenage cystic fibrosis sufferers who attempt to date despite having to keep a six-foot distance between them.
On March 15, 2019, CBS Films and Lionsgate distributed the movie in the US. Over 91 million dollars have been made globally from it despite the reviewers' varied assessments.
MOVIE PLOT
The hereditary disease cystic fibrosis (CF), which destroys organs and leaves individuals susceptible to infections, affects teenagers Stella Grant and Will Newman. Patients with CF should keep their distance from one another to six feet or less due to their weakened immune systems. 
Stella faithfully takes her medicine and carefully complies with her doctor's recommendations as she tries to organize her daily routine in order to live with her sickness. Will is considerably more carefree, which irritates the careful Stella since he is a cynical rebel with a bleak outlook. Will is taking part in a new treatment trial and has B. Cepacian, but the infection disqualifies him from receiving a lung transplant. Stella has been waiting for a transplant for a very long time.
She attempts to assist Will when she learns that he is not completing his prescribed therapies. Will merely asks her for her consent to create a portrait of her in exchange. Will starts to browse Stella's social media content. They eventually start administering their therapies in concert. Despite being unable to go much closer than six feet apart, Will and Stella fall in love.
Stella needs surgery to repair her G-tube when it becomes infected. Will surmises that Stella's sister Abby, who always looked out for Stella, passed away from a failed daredevil act a year ago. Stella, who is suffering from survivor's guilt, must do the procedure alone because Abby is dead.
Will arrives to take care of Stella after learning of Abby's passing and sings her the song that Abby used to sing to her before surgery. Nurse Barb catches Will as he exits Stella's surgery preparation area. Barb tells him a tale of two CF patients who perished after falling in love, breaking the six-foot restriction, and polluting one another. 
Will informs Stella that he can no longer visit her because he has come to the conclusion that he loves her too much to put her in risk. Stella feels offended and indignant but ultimately decides to meet Will. She decides to reclaim the foot that CF took from her, and she carries a pool cue that is exactly five feet long so she can maintain that distance from Will.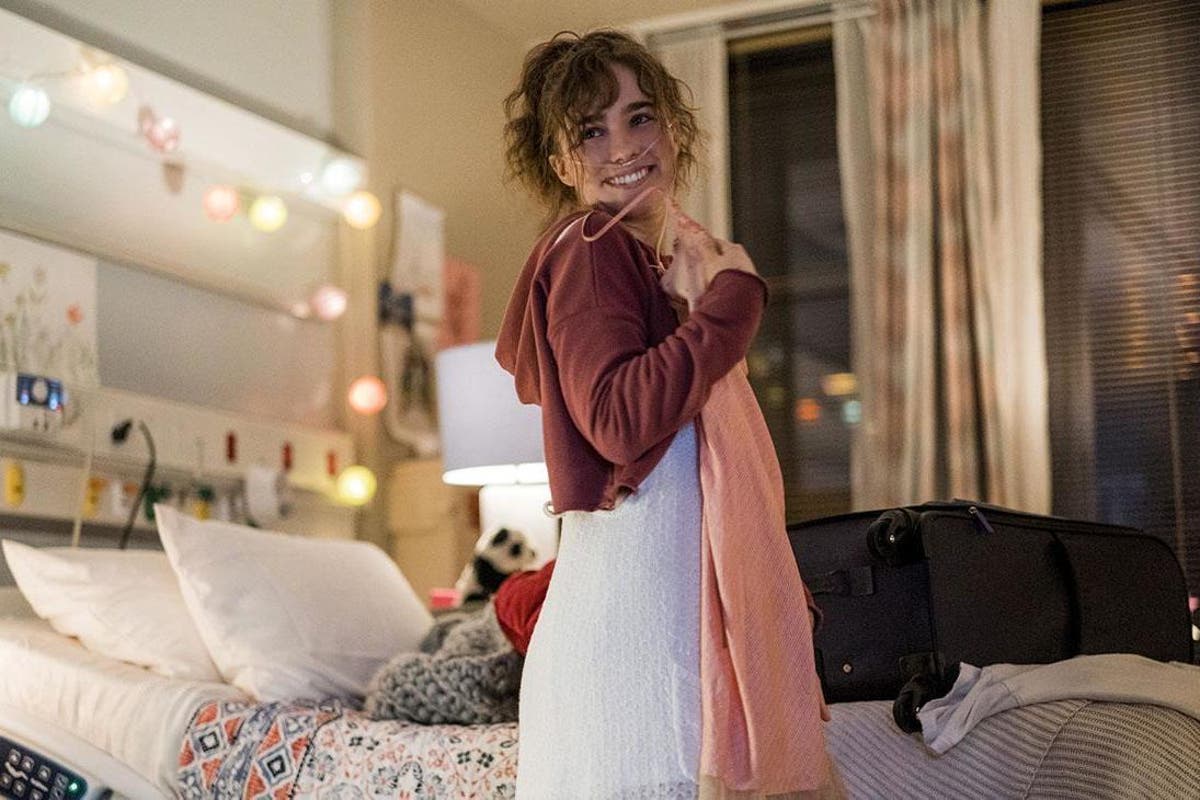 Another CF sufferer and dearest friend of Stella, Poe, passes away on Will's birthday. The two decide to depart from the hospital in defiance of CF in order to fulfil Stella's lifelong ambition of seeing the lights she could see from her hospital room. Stella receives a text message saying her lung transplant is on its way while she is gone from the hospital, but she disregards it. As she and Will depart to return to the hospital, she slips through the ice of a frozen pond. 
When Will reaches into the water and pulls her out, she is struggling but on the verge of death. He performs CPR on her to save her life even though saliva contact is extremely risky for two persons with CF. After Stella pulls through, Will and Stella are taken back to the hospital. Will worries that the CPR he performed on Stella may have exposed her to B. cepacian, but surprisingly, she does not get the infection and the lung transplant goes well. 
Will learns that the medication experiment he was participating in did not provide the desired results for him. Stella is still sedated after the transplant, and the nurses and medical staff assist Will in setting up the lights outside of Stella's room. Stella's parents and Will's mother are also present.
Will chooses to bid Stella a final farewell and professes his love for her after recognizing that he will probably infect her. He gives her his notebook, which contains pictures he made of her and her pals when they were hospitalized, before he departs.
MOVIE TRAILER