Directed By: Todd Phillips
Produced By:
Todd Philips
Dan Goldberg
Story By:
Alan R. Cohen
Alan Freedland
Release Date: November 5, 2010 (USA)
Cast
Robert Downey Jr. as Peter Highman

Zach Galifianakis as Ethan Tremblay / Ethan Chase

Michelle Monaghan as Sarah Highman

Juliette Lewis as Heidi 

Jamie Foxx as Darryl Johnson

Matt Walsh as TSA Agent

RZA as Airline Screener

Danny McBride as Western Union Employee Lonnie

Todd Phillips as Barry

Mimi Kennedy as Sarah's Mom

Keegan-Michael Key as New Father

Aaron Lustig as Dr. Greene

Marco Rodríguez as Federal Agent

Brody Stevens as Chauffeur

Charlie Sheen as Charlie Harper (Cameo)

Jon Cryer as Alan Harper (Cameo)
Sound Track: Christophe Beck
Starring By:
Robert Downey Jr.

Zach Galifianakis

Michelle Monaghan

Juliette Lewis

Jamie Foxx
Country: United States
Languages: English
Distributed By: Warner Bros. Pictures
Runtime: 95 Minutes
ABOUT THE MOVIE
Todd Phillips, Alan R. Cohen, Alan Freedland, and Adam Sztykiel collaborated on the writing for Due Date, an American black comedy road movie that was released in 2010.
In order to travel to Los Angeles in time for the birth of his child, a guy (Robert Downey Jr.) is compelled to road trip with an aspiring actor (Zach Galifianakis).
Additionally included are Jamie Foxx, Juliette Lewis, and Michelle Monaghan. On November 5, 2010, the movie that was filmed in Las Cruces, New Mexico, Atlanta, Georgia, and Tuscaloosa, Alabama, was made available to the public.
MOVIE PLOT
Firstly, in the movie Due Date, Successful architect Peter Highman is scheduled to fly from Atlanta to Los Angeles to be with his wife Sarah, who is on the verge of giving birth. He runs into Ethan Tremblay with his dog Sonny on the way to the airport. Tremblay is en route to Los Angeles to pursue a career as an actor and intends to leave his recently departed father's ashes at the Grand Canyon.
Ethan and Peter are both removed from the plane when Ethan uses the terms "terrorist" and "bomb" improperly while speaking to Peter. Peter agrees to travel to Los Angeles by car with Ethan despite losing his wallet and being placed on the No Fly List.
He learns they are almost out of money when Ethan stops to buy marijuana. Therefore, he asks his wife to wire cash to Ethan because he lacks identification but later finds out that Ethan had the funds wired to his stage name rather than his own name. A violent altercation erupts when the Western Union employee rejects Ethan's "Stage name I.D."
After spending the night at a rest area, Peter makes the decision to leave Ethan behind. However, he later regrets not taking Ethan's father's ashes with him.
He struggles with his conscience over this for a while before deciding to go back and explain his absence by saying he has gone to get breakfast.
After a restless night, Ethan takes over driving duties so Peter can get some rest. However, Ethan dozes off behind the wheel and causes a collision. Peter resolves to give Ethan up and calls his friend Darryl for help, but Darryl changes Peter's mind.
Sarah's pregnancy:
They get to Darryl's house where they may rest. Peter begins to wonder about Sarah's timely pregnancy after Ethan overhears clues that Sarah may have been unfaithful during their talk. After accidentally consuming part of Ethan's father's cremated remains that were kept in a coffee can, Darryl tosses both of them away.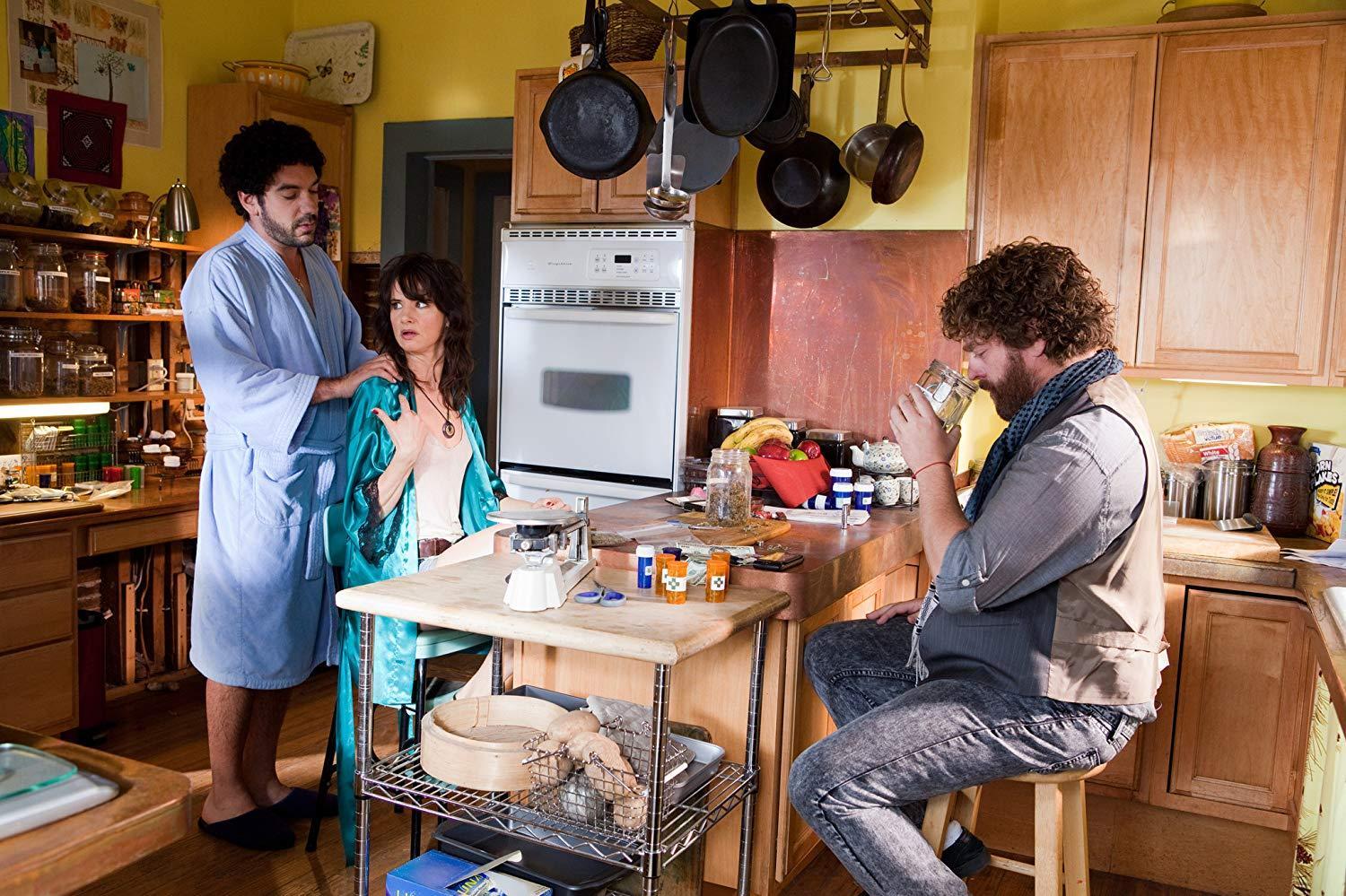 Moreover, in the movie Due Date, For the remainder of the journey, Darryl permits them to borrow his Range Rover. After getting high and bonding, Ethan makes the mistake of driving to the border between the United States and Mexico.
Peter is detained for marijuana possession after Ethan escapes despite promising to handle the problem. Peter is imprisoned by the Mexican Federal Police, but Ethan steals a vehicle and frees him, resulting in multiple car accidents.
 Father's ashes:
Ethan finally scatters his father's ashes at the Grand Canyon, so Peter decides to make a pit stop there. Then Peter admits that he attempted to abandon Ethan at the rest stop. Also, Ethan admits that he was the one who held Peter's wallet and ID all along. Peter appears to pardon him before launching an angry attack on Ethan.
He is then cut off by a call from Sarah, who has just given birth. Ethan and Peter fly out to California. Peter is shot by Ethan accidentally after he finds a gun in the truck. He faints due to blood loss while traveling to the hospital where Sarah is having a baby.
Furthermore, Peter expresses his displeasure at the name Rosie Highman being given to his infant daughter after Sarah delivers the baby successfully. Ethan instructs Peter to phone him as he departs to meet with a Hollywood agent.
Finally, In the final scene, Ethan makes a guest appearance on an episode of Two and a Half Men, which Peter and Sarah are watching in bed with their daughter. Throughout the episode, Ethan texts Peter to let him know they've become friends.
DUE DATE MOVIE TRAILER: