Directed By: Jake Kasdan
Produced by: 
Jimmy Miller
David Householter
Release Date: June 20, 2011 (USA) 
Cast:
Cameron Diaz

 

Jason Segel

 

Lucy Punch

 

Justin Timberlake

 

Lee Eisenberg

 

John Michael Higgins

 

Kaitlyn Dever

 

Kathryn Newton

 

Phyllis Smith

 

Molly Shannon

 

Thomas Lennon

Nat Faxon
Finneas
Melvin Mar
Eric Stonestreet
Paul Feig
Jillian Armenante
Noah Munck
Matthew J. Evans
Igal Ben Yair
Adrian Kali Turner
Alanna Ubach
Andra Nechita
Stephanie Faracy
Deirdre Lovejoy
Rose Abdoo
Matt Besser
Rick Overton
Jerry Lambert
Bruno Gunn
Jordan Van Vranken
Jeff Judah
David Doty
David Paymer
Dave Allen
Christine Smith
Jennifer Irwin
Aja Bair
Paul Bates
Ryan Seacrest
Shane McRae
Joey Luthman
J. Elvis Weinstein
Soundtrack:
Micheal Andrews
Starring by:
Cameron Diaz as Elizabeth Halsey
Justin Timberlake as Scott Delacorte
Lucy Punch as Amy Squirrel
Jason Segel as Russell Gettis
Country of origin: 
United States
Languages: English
Written by:
Lee Eisenberg
Gene Stupnitsky
Distributed by: Sony Pictures Releasing
Runtime: 97 minutes
ABOUT THE MOVIE
Firstly, Lee Eisenberg and Gene Stupnitsky's script for the 2011 American comedy picture Bad Teacher was directed by Jake Kasdan. The movie, which stars Jason Segel, Justin Timberlake, Lucy Punch, John Michael Higgins, and Cameron Diaz, is about a lazy middle school teacher who hates her job, her students, and her coworkers and is compelled to go back to work in order to save money for breast implants after her wealthy fiancé dumps her.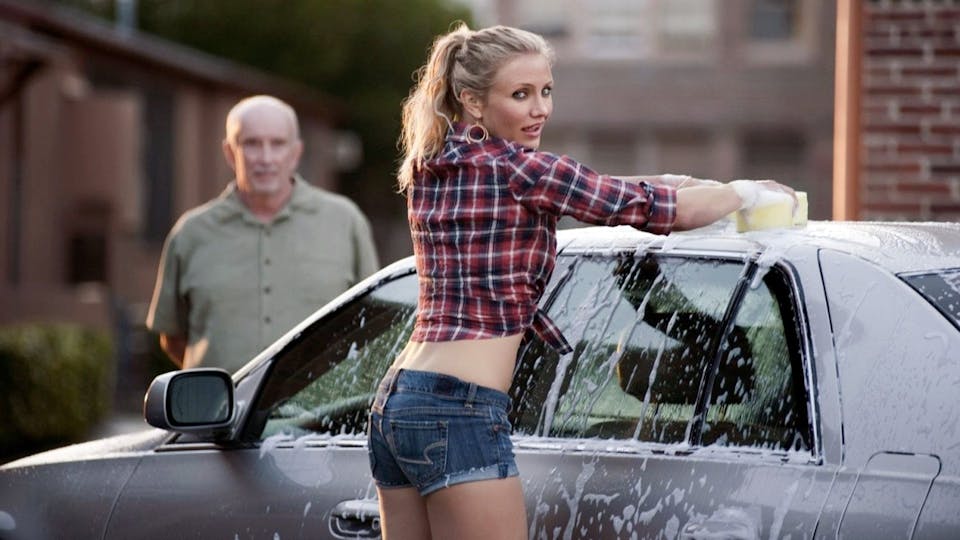 MOVIE PLOT
Secondly, in the movie Bad Teacher , Cameron Diaz as Elizabeth Halsey is a slack, unethical, greedy Chicago teacher at John Adams Middle School who swears at her students, consumes copious amounts of alcohol, smokes, and plays movies so she can fall asleep in class.
She intends to leave her profession as a teacher to wed her affluent fiancé, but he breaks up with her after learning that Elizabeth (Cameron Diaz) is simply chasing his money, so she returns to work. Also, She tries to seduce Scott Delacorte, a wealthy substitute teacher. While Elizabeth resists attempts from the school's gym teacher, Russell Gettis, her devoted and energetic coworker Amy Squirrel also pursues him.
Elizabeth has already made preparations to get her breasts increased, but she is inspired to go through with it after finding that Scott's ex-girlfriend had big breasts. She can't, however, afford the $9,300 operation.
Elizabeth makes an effort to raise money for the procedure at the 7th-grade car wash by dressing provocatively and coercing parents into giving her money for tutoring and additional school supplies, but her efforts fall short.
When Amy alerts the principal to Elizabeth's embezzlement, he rejects her charges because there is no supporting information. Moreover, Scott acknowledges his attraction to Amy and claims just to see Elizabeth as a friend.
Furthermore, Elizabeth makes the decision to alter her approach to teaching after learning that the teacher of the class with the highest state exam results will receive a $5,700 bonus. As a result, the class is required to study To Kill a Mockingbird in-depth for the test.
But it's already too late. She is even more frustrated by the student's poor performance on the book quizzes. She becomes pals with Russell (Jason Segel) when Amy and Scott begin dating.
However, By pretending to be a journalist and wooing Carl Halabi, the state professor in charge of designing and disseminating the exams, Elizabeth intends to steal the answers to the state exams.
Carl is persuaded to enter his office for sex by her, but she drugs him and takes the solution key. Elizabeth receives the bonus a month later, covering her expenses completely, and schedules her breast augmentation.
When Elizabeth finds out that Amy and Scott will be leading a field trip, she covers an apple in poison ivy and leaves it for Amy. As a result, Amy has facial blisters and is unable to travel because of this. Elizabeth seduces Scott during the journey.
They dry hump while Elizabeth covertly records everything on Scott's phone and sends Amy a note. Elizabeth is disappointed by Scott's shifting beliefs, though. Elizabeth comforts her student Garrett when he confesses to having an unrequited crush on a superficial girl in the class named Chase. Moreover, This causes Elizabeth to reflect on her own superficial behavior.
In addition, Elizabeth has changed by the start of the current academic year. She has developed a romantic relationship with Russell, is nicer to her coworkers, and decided against having her breasts enhanced since she thinks it is unnecessary. Elizabeth is now the new guidance counselor, which is also a new post.
Elizabeth has changed when the new academic year begins. She has begun dating Russell, is nicer to her coworkers, and decided against getting breast augmentation since she thinks it is unnecessary. Elizabeth has a new job as the new guidance counsellor as well.
BAD TEACHER TRAILER